tvshowz
This user hasn't shared any profile information
Posts by tvshowz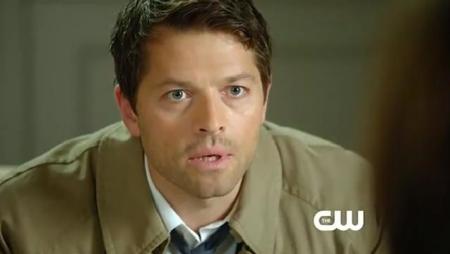 Well, it wouldn't be the second half of a Supernatural season if the entire story hadn't devolved into a big giant angst-fest. You know, more so than the show's usual angst-fest. Sam is probably dying. Again. Castiel is being weird and evasive. Again. And once again, Dean is stuck in the middle, wondering why he doesn't get nice things. Welcome to the homestretch, ya'll!
More on my bitter tears later. Fresh off of a trippy adventure in his own personal "Mystery Spot" Castiel caught up with the Brothers Winchester when they invaded his turf in search of whatever was randomly killing demons in a small town. That "something" turned out to be Castiel himself, so I guess in actuality they all caught up to each other. How quaint!
From the jump, Dean and Sam suspected that there was something off with Castiel, which leaves Dean 2 for 2 with the knowing-his-family-members-are-lying-about-stuff record. Earlier, he spotted Sam's bloody tissues in the trash bin back at the Batcave and between Sam's supernatural black lung and the really great job the makeup people are doing making Jared Padalecki look like he's perpetually fighting off the flu, it wasn't hard to figure out that Sam isn't as fine as he claims– but really, is he ever? Cas further elaborated on Moose's condition by claiming that Sam was "damaged in ways he can't heal" and implying that it was electromagnetic (!?) in nature.
Thanks for your insight, Cas. I guess. But brownie points to the Supernatural crew for making an effort to at least show a gradual progression toward…whatever we're working toward. I'd rather have details dangled in the dialogue and Sam discretely hacking up a lung than the usual modus operandi of ignoring everything until it suddenly becomes relevant again. It makes me think that this story is being thought out and planned, as opposed to slapped together over hellatus. I like it. It makes up for the blah cases of the week that preceded this wangsty adventure and the general clusterfuck of the first half of the season. Amelia even kind of sort of made sense once Meg compared her to a unicorn during her and Sammich's little heart-to-heart.
Incoming search terms:
modern family s04e15 streamallthis

The lights go out at McKinley High this week on Glee, forcing at the students to use flashlights and forcing me to wonder why they don't just open the blinds. Inspired by the lack of electricity, Mr. Schue makes it "unplugged week," but the only one who seems to embrace the lack of synth is Sam. The episode also takes a turn for the very serious when Ryder makes a personal confession to the glee club. Is it just me or does it feel like Glee is really hitting on hard issues this season? We also learn some important lessons about the dangers of mylar balloons.
Over in New York City, Rachel and Kurt are concerned about Santana's lack of direction, and Sarah Jessica Parker makes a triumphant return as Kurt's "fairy godmother." Get my highlights and a Spotify playlist of all the songs in the episode when you read more.
First of all, shout out to American Idol's Jessica Sanchez, who we see only a glimmer of as a member of another team competing against the New Directions at Regionals. She belts out "The Star-Spangled Banner" like a pro, and I'm really looking forward to seeing and hearing more of her.
Despite the fact that according to Kurt and Rachel, Santana is a deadbeat, she's actually the smartest character on the show. She's got the wittest one-liners ("I don't think I need to be taking any advice from TV's Blossom"), and she really has a grip on reality. I love the end of this episode when she hugs her inner child. It's sweet and a little whimsical, just the way I like my Glee.
Incoming search terms:
watch glee lights out online
glee episode free online ipad
glee s04e20 recap
Divxstage Video Online
filebox - glee - lights out
glee online episodes ipad
watch glee online free no flash
watches lights out glee

There was good news and bad news during Thursday's episode of Grey's Anatomy. Let's start with the good news: Bailey gets to keep her job!
After three of her patients showed up with mysterious post-operation infections, the Grey Sloan Memorial Hospital board members decided to call the CDC to investigate the source. After two of the patients died, Bailey was sidelined as the CDC attempted to figure out how this all happened. Unfortunately, during this time, the rest of the hospital could not outwardly show their support for the stalwart doc, with her longtime mentor Richard even blaming her to the third patient's parents in order to get him into surgery – something Bailey inadvertently heard.
The CDC was able to determine that the infection did start with Bailey, but it was only spread due to the gloves that were being used during the Pegasus era. In other words, if it weren't for the inept Pegasus, everything would've been OK. It's never quite explained how Bailey contracted the infection, but she'll be treated and sent back to work in no time.
Now the bad news: Bailey knows exactly who supported her, or rather, who didn't during this stressful time, in which she truly thought she could lose her job. In particular, it was most hurtful that Richard was not there for her considering she spent years making excuses for him when he was doing surgeries while drunk or blowing off his wife Adele.
Incoming search terms:
watch greys anatomy s9 e16 free online
greys anatomy s09e21 stream online
projecttv greys anatomy
game of thrones sixshare
where can i watch full episodes of greys anatomy for free
watch online gorillaz grey's anatomy season 9 episode 21 sleeping monster
watch greys anatomy finale online tv duck
grey\s anatomy season 9 episode 22 gorillaz
grey\s anatomy s9e21
grey\s anatomy s09e15 stream free
grey\s anatomy 09x21 streaming
greys anatomy s09e21 online tvduck
greys anatomy online watch
greys anatomy free for ipad

In this week's episode of The Big Bang Theory, Sheldon and Amy deal with his need for closure, Penny tries to get excited about Buffy the Vampire Slayer, and Raj tries to butch it up. In other words, this is an episode about people trying to change something deeply ingrained into who they are and failing absolutely spectacularly.
First we have Sheldon, who finds out that Alphas has been canceled, and what's more, it ended on a cliffhanger. We've all been there, I'm sure, but the problem is worse for Sheldon who can't even stand to not complete his door-knocking, much less not know what happens after the disastrous scenario in which Alphas ended. (And can I just say… obscure!)
Amy decides to try to help him out by conditioning him to accept life without resolution and hands up, who here over-related to him just not being able to handle it? Particularly at the end, when he gets his closure and all but passes out with relief. My hand is in the air and I'm guessing a few of yours are as well.
Meanwhile, Raj decides to butch it up after stalking his girlfriend online and finding that she had referred to him as feminine. His solution to this seems to involve wearing a hockey jersey and serving frozen burritos for dinner, and I laughed a truly ridiculous amount because I completely believe that that is what Raj thinks masculinity comprises. Naturally, it also fails, but luckily she doesn't mind his lack of traditional masculinity, and in fact it's one of the things she really likes about him. I think I'm slowly coming around to liking her.
Incoming search terms:
Putlocker TV Episodes
how do I watch tv shows on putlocker
Big Bang Theory S06e20 bit
watch big bang theory the closure alternative s06e21 tubeplus
tv show merlin free online streaming putlocker vk vidxden movshaRE gorillavid vreer
Suburgatory S02E02 online putloccker
putlocker tv shows stream
hannibal s01e02 putlocker
big bang theory s06e21 ipad stream
watch the big bang theory the closure alternative online

Would you book another trip to New Orleans?
That is the question for fans of The Vampire Diaries after tonight's shocking episode, which served as a backdoor pilot for The Originals spinoff, which centers on fan favorite Original siblings Klaus (Joseph Morgan), Elijah (Daniel Gillies) and Rebekah (Claire Holt) stirring up trouble in The Big Easy, a supernatural empire that Klaus helped create back in the day.
And though Klaus heading back to New Orleans intent on destroying a coven of witches looking to destroy him, he got more than he bargained for when he ran into werewolf Hayley (Phoebe Tonkin)! Plus, we met (and swooned over) new characters that we'll be spending a lot of time with should the CW pick up The Originals to series…
We better start with the hybrid baby because, WHAT? There's been some discussion about why Hayley would play a role in the spin-off (well, other than The CW isn't going to let Phoebe Tonkin slink away so easily), but now we know: She's miraculously carrying Klaus's child after their almost-forgotten one-night stand some episodes ago. The episode chalked up the pregnancy to a loophole in the system, which is clearly the quickest and pilot-iest way to answer "how?" without actually answering it. The mystery behind the pregnancy will likely drive The Originals, as will Klaus's surely slow-moving journey of coming to terms with the baby's existence.
Incoming search terms:
ipadonline com vampire diaries
videobam the originals vampire diaries
sockshare tv shows
where can i watch the vampire diaries for free without downloading yidio
the vampire diaries - 04x20 watch online
vampire diaries original
Sockshare Free TV
sockshare tv shows com
watch vampire diaries season 4 online free videobam
watch vampire diaries season 4 the original online for free no surveys
what breed of dog on mindy project morgan
watch megavideo vampire diaries season 4 view to a kill

?Glee' delivered it's most emotional and powerful episode ever on April 11 as a traumatic event rocks McKinley High. Plus, Ryder comes face-to-face with his online love, Katie, and the result is shocking.
Glee co-creator and executive producer Ryan Murphy warned us that the April 11 episode would be "emotional" and he didn't lie. He tweeted on April 3, "Just saw the rough cut of next week's ?Shooting Star'. It is the most powerful emotional Glee ever. So proud of the cast & crew." This is a definite understatement.
During a New Directions rehearsal, focused on "last chances" to share one's feelings, two shots ring out in the halls of McKinley High. It's a heart-stopping moment that threatens to turn the students' worlds upside down! All of the harrowing action is confined to the choir room, where Will and Beiste immediately turn off the lights and find hiding places for the students, trying to squash any attention that may attract the shooter.
Artie takes out his camera phone and records his peers' messages to their loved ones, just in case.
Incoming search terms:
watch glee s04 e08
free watch online shooting star s04e18 glee for ipad
watch shooting star glee online
watch glee shooting star online
watch glee on ipad novamov
watch glee on ipad free
tv showonline com
how can i watch glee on ipad
glee shooting star full episode no survey free
glee episode ending shooting star megashare
glee shooting star online
Full episodes of glee for ipad
watch glee shooting star episode on megavideo
watch glee s04e18 tubeplus

While the second episode of Hannibal did introduce a new "killer of the week", I was also very happy to see plenty of fallout from what occurred in the pilot, as it became clear there was no easy "well, that's all over" procedural vibe here.
The fact that Will Graham had never killed someone and had "just pulled the trigger ten times", as Jack put it, was not dealt with lightly. Not only did we see Will troubled by nightmares about what he'd done, but it was the reason Jack asked Will to get a psych eval ? from none other than Hannibal Lecter.
The dynamic between Jack and Hannibal is great, as Hannibal established an easy, friendly, no BS tone with Will ? "rubber stamping" him, officially, so they two could be more genuine together. At the same time, he's baiting Will with dark questions like, "Is it hard imagining he thrill someone else feels killing, now that you've done it yourself?" Hannibal clearly finds Will someone worth his time ? does he want to cultivate the darkness he sees within Will? By the end of the episode, he has Will admit "I liked killing him", as they discuss the feeling of power that goes along with taking a life.
We also got some very intriguing suggestions about Abigail, the daughter of Garrret Jacob Hobbs, who Will saved last week, after her father sliced her neck. The idea that perhaps she may have been an accomplice to her father ? or someone he could use as bait at least ? certainly put her in a new and chilling perspective.
Incoming search terms:
Hannibal edits
hannibal s01e02 online streaming
watch hannibal on the ipad online for free

"Patients say it all the time. Tell me straight up, I just want to know what's going on. Tell me. I can handle it." At least that's what Meredith thinks, but her emotions change when she gets her genome results back. As it turns out, Meredith tests positive for more than one of the genetic markers of Alzheimer's. Meredith and Derek later discuss her mapping results, but Meredith just wants one thing ? an updated will ? considering Lexie is still Zola's guardian.
Meredith later suggests appointing Cristina and one of Derek's sisters, whomever he chooses, to be guardians of their children. Derek takes this opportunity to remind Meredith that Cristina doesn't want to be a mom, which she reaffirms to Meredith when they go for a walk together. Regardless of what happens, Cristina asks Meredith to have the kids for three weeks of the year to travel, teach them lessons (like putting a condom on a cucumber) and to take them for their first tattoos, at a "clean place" of course. Oh, Aunt Cristina. "I'll be the coolest aunt in the world. I just can't be a mom" she said.
Speaking of Cristina, she's convinced there's something going on with Owen because he's acting "crazy" and blew off their plans the night before. His concern over the status of Cristina's patient, Ethan's father, has turned into an obsession that she's become tired of. Ethan's mother, on the other hand, awakens and remembers her son, which Owen feels better about.
Leah spends the day as Bailey's intern, a gig that she unsuccessfully tries to get out of. The day starts badly for the pair when Bailey scolds Leah for leaving a pizza crumb on her laptop. The two work together on one of Bailey's recent patients, Joyce, who had a dialysis graph put in a few weeks ago. Her husband brought her back after a few fevers. The doctors discover she has an infected insertion site so they run more labs and discover that Joyce has a high white count and her electrolytes are off. When they decide to admit her, Leah informs Bailey that there was also another complication with Bailey's other patient. Although Bailey shuts her down and tells her to "fix things" Leah's convinced she's responsible for this mess because she came in sick.
Incoming search terms:
callie and arizona s09e20
watch greys anatomy s9e20 online
greys anatomy streaming ipad
watch greys anatomy online on ipad
suburgatory movpod
Movpod Full Movies
mov share grey\s anatomy s9e20
grey\s anatomy s09e20 watch online ipad
greys anatomy watch free online S09 E15
greys anatomy shes killing me stream
greys anatomy 09x14 putlocker
gorillavid grey\s s09e20
callieand arizona s09e20
watch grey\s anatomy online s9e20 project tv

Tenure is the bane of any college professor's existence. It's great if you can get it, but the road to a tenured position is paved with years of uncertainty and endless amounts of inter-departmental politics. Tenure was the dragon our heroes wrestled with in this week's episode. And as expected, they were each forced to make a choice between their years of friendship and the prospect of lifelong financial and professional security.
This could have been the basis for a really dramatic episode, but with the season finale still a few episodes off, perhaps now wasn't the time. Unfortunately, the humor wasn't as strong as it could have been, resulting in an episode that was neither that funny nor very dramatic.
"The Tenure Turbulence" brought back two supporting players on the Caltech scene that have crossed paths with Sheldon and the gang previously in the season – rival professor Barry Kripke (John Ross Bowie) and HR director Janine Davis (Regina King). Right away that started the episode out on muddy ground. Mrs. Davis is an enjoyable enough character, mainly because of the way she brings out Sheldon's unintentionally racist side.
That element certainly came back into play as Sheldon did his best to woo her with inappropriate gifts and other misguided gestures. Watching Sheldon's hip little handshake maneuver at the very end was probably the highlight of the week.
Incoming search terms:
big band theory cleavage tenure turbulence secret weapon
watch big bang theory the tenure turbulence mp4
bang theory season 6 the tenure turbulence online megavideo
big bang theory iphone s06e20 -torrent
gorilla vid big bang theory s06e20
he big bang theory s6e20 – the tenure turbulence
the big bang theory online project tv s6e20
watch the big bang theory the tenure turbulence online
watch the big bang theory the tenure turbulence online sidereel

So it wasn't exactly an ends-in-fireworks first date, was it Newbies? But were you really expecting that? Tonight's episode of New Girl had a lot to say, not just about Jess and Nick's relationship, but about the relationships of all the loftmates. It's a fragile ecosystem – one that can be thrown off-kilter by a lusty gaze or a missing phone charger? which is exactly where the episode began.
"First Date" opened with Nick, Jess, and Schmidt lying in wait to pounce on Winston for stealing the communal phone charger (a foolhardy roommate bonding tactic if there ever was one). In the subsequent scuffle, Winston went for Schmidt's face, and Schmidt screamed: "Not my face! Hey! That's the moneymaker!" Jess basically bounced around like the world's worst sparring partner as Winston coolly walked around her, so Schmidt broke into a sprint after him while screaming, "You can't outrun the Jewish!"
Their exit left Jess and Nick alone in the living room to mumble, laugh, and descend into awkward silence as their un-DTR'd feelings hung in the air. They wondered aloud, "What should we do?" and laughed "Definitely not make out!" Nick broke the tension by? creating more tension. Specifically, he grabbed Jess's upper breast – and continued to hold it as they clumsily described their ever-shifting dynamic (from friends to making out to hating each other's guts to grabbing each other's boobs). With things as muddled as ever, Nick doubled down on his bad instincts and grabbed Jess's other boob. She deemed this development "a little bit better, a little bit worse." Annnnnd? scene.
To sort out this mess, Nick and Jess turned to their most trusted confidants. Jess visited Cece and placed her hand on her chest where Nick had. She asked, "Would you describe this as a sexual act?" Cece answered, amusingly, "I would describe that as the pledge of allegiance, which can be sexual." Jess got worked up as she voiced her confusion over Nick's inability to be clear about his feelings and/or deliver on her expectations. At which point Cece noted Jess was still clutching her own boob. Jess admitted it somehow calmed her. How far you want to read into that, ?shippers? that's on you.
Incoming search terms:
new girl cabin tubeplus
watch new girl s02e21 videobb
filebox new girl first date
new girl 1st date
watch new girl s02e21 vureel
tvshowz's RSS Feed