tvshowz
This user hasn't shared any profile information
Posts by tvshowz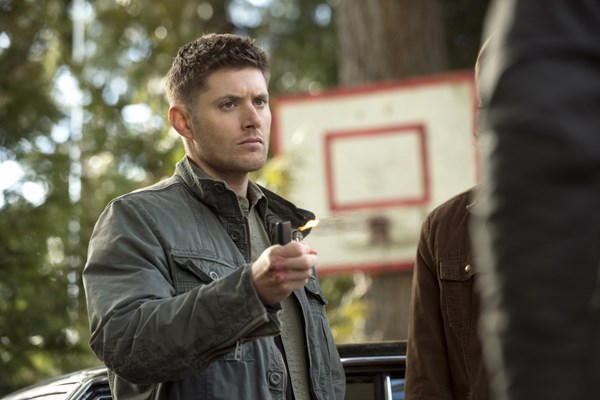 Supernatural continues tonight on the CW with a brand new episode called"Meta Fiction." On it Metatron tries to get Castiel to join forces with him. Meanwhile, Sam and Dean capture Gadreel.
On last episode Dean struggled with the after effects of the Mark of Cain. Meanwhile, Sam heard about a case where straight-laced people were turning into violent murderers. Sam suspected possession and suggested to Dean that they investigate, but Dean told him to go without him. While interviewing the local townsfolk, Sam met an elderly woman named Julia, who told him the Men of Letters came to town in 1958. Josie told Sam the story of a young man named Henry Winchester and his female companion, Josie Sands. While Sam was away, Crowley tested Dean. Did you watch last week's episode? We did and we recapped it right here for you.
Those words from Metatron begin the episode, as does a special title card. Castiel follows the call of a sigil, only to find angels dead and one alive to tell him about an angel offering a deal: join Metatron, fight for him and return to heaven, or slaughter. She's heard of him and is hoping, like other angels, that Castiel will be their leader, but while he wants to make Metatron pay, he refuses to be a leader. He sends a photo of the sigil to the Winchesters, and Sam discovers the same symbol at other crime scenes. Gadreel's in Utah, and there are two possible next stops, so the brothers are taking one while Castiel takes another.
The angels hit the road, with Gabriel giving a rundown of what he's seen and claiming that he doesn't want to run anymore. He wants to lead, and he's going to need soldiers. When they stop at a Gas-n-Sip, they run into trouble: minions of Metatron. Gabriel tries to send Castiel away while he holds them off. Does that all sound just a bit too good to be true? Yes, right? Well, that's because it is. Castiel notices that his coat isn't torn where it was earlier. Continuity errors, they'll get you every time. No, none of this is real. But is Gabriel dead? All we get is a wiggle of his eyebrows.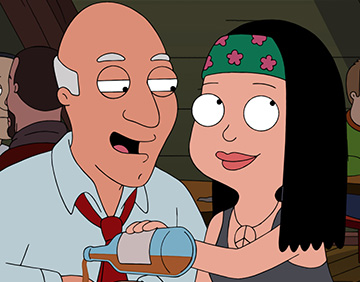 Last night's episode was titled "She Swill Survive". It is the sixteenth episode in this tenth season and it almost put me to sleep, guys. American Dad has been on a bit of a viewership decline this season, and it's episodes like this that may explain it.
In this episode we see Stan return from a long day at work, only to find Hayley awaking at four in the afternoon. Concerned that she lacks the skills to take care of herself in life, Stan forces her to take a job and at Roger's bar and start paying rent. Stan is also having a rough time at work because he wants to be part of Mr. Bullock's "Inner Circle", an exclusive club where plenty of fun times are had. When Stan learns that Mr. Bullock has been making drunken confessions to Hayley at the bar, he plants a microphone and uses it as a way to get himself into the Inner Circle.
Meanwhile, Steve and his pals settle in to watch Wolfgang Petersen's classic "Das Boot" with Klaus. Just before they start the film, a minor slip of the tongue sets off a chain reaction of Germanic folk tales that prevent the boys from actually watching the movie at all.
I feel like I've been hard on American Dad these past few weeks. We're winding down on this season, and it doesn't appear to me that it will end well. I haven't really enjoyed this season as a whole, to be honest. Admittedly there are a few great ones, but they seem few and far between.
Incoming search terms:
putlocker watch tv series for free

Jackie is swimming laps. She comes up for air and then goes for another lap. In the locker room, she grabs a towel and heads to her locker. She opens it and sees the pills she got with her towels. She walks back to the attendant and tells her it was a little light and gives her some money. Grace snorts a line of something and then wipes the residue away. She puts on her eyeliner. There's a knock at the door ? it's her Dad ready to get her off to school. She kisses him. Jackie pops a couple of pills by her locker then dresses and heads out to the workout area.
Frank is there working out and they discuss plans but he has to work and she has the girls. She says she'll call him, they smooch, hug, swap I love you's and she leaves. She arrives at the hospital and heads in. Thor asks if she's been at the gym and he tells her she makes him feel like a slob. Gloria and Ike greet her and Zoe tells her about a kid she's having problem doing a blood draw on. Zoe tells her she's like a different person when she goes to the gym and she says that's why she goes.
Jackie comes to take the blood and the mom is annoyed and doesn't want his blood drawn. She demands to talk to a doctor and Ike is there and tells her they do need the blood sample. Jackie tells the mom to rub the boy's neck and she does and it's over quickly. Someone comes in moaning and call for a doctor. Carrie stands to help but Ike glares her back to her seat.
Fitch asks if she's off probation soon and she says they are going to let her know. She says it's been months and she feels tied down. Fitch has a plaque and he says he gave a scholarship to his alma mater and she asks why and he says it makes him happy. She tells him America isn't happy and that Mexico is happier then scoffs. She asks Fitch to help her and he reminds her she tried to sue him.

Hank returns for Californication's seventh and final season waiting to knock, standing in a place most guys know well. He's on the side of the door that isn't quite reality ? floating in that space before the big moment where every scenario rushes through your head. More often than not, the vision of the big speech or heart-wrenching proposal goes as planned and nervous anticipation turns into much needed elation.
Ask any guy that has an ounce of romance in him about how nothing you plan in your head unfolds exactly the way you want it to. In those moments before the knock you can't prepare for someone's reaction, you can only put it out there and hope.
The episode opens with Hank knocking and Karen accepting. The sweeping passionate kiss ensues. The band is back together.
Well not quite. This is Californication, where you can dream all you want but reality always comes to wake you up. Sticking true to the series' roller coaster love arc, Hank knocks and no one is home. His visions of the big romantic gesture dissipate because now he has to go out and find Karen, an angel in a city filled with demons. When he does find Karen at a coffee shop, his speech comes out a little rushed and the reaction wasn't something he previously accounted for in his head.

The Simpsons "Days of Future Future" is yet another future episode and the future ain't what it used to be. It can mess with Simpsons canon. I've always assumed there would be a future with a President Lisa Simpson. I assume it will happen before Malcolm from Malcolm in the Middle will be president. It's a future I look forward to. Not only will she legalize "it" for Bart, both Lisa and Malcolm are both really intelligent people from families who know what's what in the world. Not that I want a President Frankie Muniz or President Yeardley Smith, well maybe Yeardley, President Yeardley sounds like it will be comic gold. But I digress.
I'm going to miss Homer #1, his irrepressible humor, his insatiable hunger and unquenchable thirst. We've gone through so much. And come back for seconds. Free refills and all the shrimp we could eat. Thank science for Professor Frink, until Bart recorded over Homer, he begloibened the day. Homer has had a storied story. He came into this world a kind of magical gorilla, lived as a fat, fat, fat, reckless fat pig, died his way into the future future through a series of surplus wholesale clones, will be downloaded onto a zip drive, turned into a screensaver (bonk, bonk, ooh corner, badonk) and finally transported into a robot who sounds like Kazoo, the alien on The Flintstones. Very fitting. Except Homer's junk, which comes separately and has to be assembled by hand.
The future in Springfield is a conglomeration of the myths of TV and movies made fleshy yellow. Bart feeds the dinosaurs from Jurassic Park , I mean Cretaceous Park, like he was working at Seaworld, only without the dolphin abuse. Lisa does charity work for the undead, her future being written by The Walking Dead. Her future marriage to Millhouse is in a rut until Millhouse gets bitten by a zombie and Lisa by the love bug. Once you go zombie you never go back. Just like bubble wrap is the great equalizer.
The Simpsons is playing it fast and loose with death this season, what with the death of the most beloved person in Springfield, the real-life death of Marcia Wallace, whatever happened to Nelson a few weeks ago and, I swear, Hans Moleman has died at least four times this year. The Simpsons play with the idea of Homer dying a lot. Probably more so after Matt Groening's father, who Homer is based on, died. It's a scab he just has to pick. In a past future episode (if this is beginning to sound like the Mad magazine version of the Poseidon Adventure, go down to go up, good), when Lisa tells her mom she's marrying a Hugh Grant kinda guy, Marge says "I wish your father were here" no Homer will not have had died in that future, he was out. The Simpsons has prepared us for Homer's death. But not Abe's, he's at Homer's funerals. Cremo, the crematorium-bot is ever-ready, though.
Incoming search terms:
watch the simpson online streeming

Tonight's episode of Continuum, we learn a bit more of Travis' and Dillon's personal lives.
Let's start with Travis. It is 2077 and a mother-daughter return home when we see Travis cover the mouth of the mother. We are lead to believe something bad is going to happen to them but it is only Travis secretly wanting to see his daughter and the mother of his child. Travis' wife/partner/mother of his child is worried about the danger he is putting them in considering that he is a terrorist. This fear is realized when CPS men break in and demand to know where Travis is. Travis' wife doesn't give him up but states they are loyal to the Corporate Congress. The head officer speaks to Travis' daughter and asks about her loyalty. This pretty much leads to her giving up her father's hiding spot. At episode's end, we are back to this scene where we see moments before Travis' arrest, he tells his daughter about sacrifice. After Travis is taken away, the lead officer thanks them for their loyalty and gives Travis' daughter a CPS pin as thanks. When the officers leaves, Travis' daughter cries in her mother's over betraying her father.
Back to the present a young man and woman are scaling the Fermitas building as a sign of protest and are arrested for their troubles. Carlos tells Kiera that Fermitas is a big weapons manufacturer and one of Liber8′s safety deposit box theft victim. When Carlos abruptly ends their call, Kiera is paid a visit from Curtis. Curtis wants to form a partnership with Kiera but she is weary and wonders if Catherine knows.
And apparently Catherine doesn't when Kiera goes to visit her and ask. The big thing about this scene is that Kiera wonders what is behind a mystery door that Catherine goes into. Instead of answering, Catherine just tells Kiera that she is glad they are on the same team.

Due to the murder of former NIS agent Daniel McLane, who worked together with Mike Franks, we meet agent Dwayne Pride (called King by most), agent Chis Lasalle, and agent Merri Brody. (I will be honest and say I had trouble understanding what Lasalle was saying at times.)
McLane was Pride's mentor like Franks was Gibbs'. Gibbs and Pride know each other from back when they were probies. From what I understand, Gary Glasberg might create a spin-off ("NCIS: New Orleans") with this team. In principle, I am never a big fan of spin-offs, but it might work.
Pride comes to D.C. and to Gibbs because he thinks there might be a political motivation for the murder. McLane, after he retired from NIS, became a congressman. When Pride is in D.C., Lasalle calls in MTAC. He is there with the New Orleans medical examiner, Dr. Loretta Wade. They say the FBI came and took the body away. Dr. Wade had not been able to finish her autopsy. Tony "smells a conspiracy."
"NCIS" and the FBI have to work together on this case, causing Fornell to join in. (Yay!)
Watch Game of Thrones – The Lion and the Rose Online
There are times when I feel like a broken record on the subject of "Game of Thrones" and my wish that Benioff and Weiss didn't have quite so much story to deal with, or at least that they could re-structure the show in a way that would allow for longer stints in each destination, if not for periodic single-location episodes like "Blackwater." But then we get an episode like "The Lion and the Rose," in which the first half is structured like your typical "Game of Thrones" episode, while the second half is essentially one long scene at Joffrey and Margaery's wedding, and I'm reminded all over again of the power of concentrated storytelling over the diffuse kind that Benioff, Weiss and company (including George R.R. Martin, who wrote this script) usually have to practice.
In comparison to someone like Robb Stark, who was built up as a boring but likeable guy, an underdog to root for because of what happened to his father Ned, Joffrey is nothing more than a pissant. He's a contemptible little cockroach who does nothing but snipe at those around him out of sheer boredom and in the eyes of most viewers deserved a far more excruciating death. But there's a sinister poetry to his death at a wedding, after all immediate threats have been removed. This is the chaos of Westeros, where siege threats can be thwarted by magical fire, White Walkers roam the frozen North, and the most dangerous place for a King seems to be a royal wedding.
Yes, that means that characters who traditionally would end up the conquering heroes are cut down before following through on that classical arc. But it also means that the evildoers, sinister little cretins who do nothing but destroy all hope for happiness in the world, can die early and without warning as well.
Jaime is upset that he can't protect the King — he can hold his sword, but he can't properly wield it. He needs an instructor who can keep quiet. Luckily, Tyrion knows just the person.
You're wrong Varys – I wept for Shae this episode. Yes, she has frequently annoyed me and I'm not always convinced by Sibel Kekilli's performance but the brief scene between her and Tyrion broke my heart. Is Bronn telling the truth about getting her out of King's Landing? I do hope so but were I Tyrion I might begin to worry about just how many secrets Bronn knows, given Jaime's (lack of) fighting ability when it comes to Shae's whereabouts. As Varys would tell you, it doesn't pay to trust anyone too much in King's Landing.
Bran and his bunch—Hodor (Kristian Nairn), Jojen (Thomas Brodie-Sangster) and Meera Reed (Ellie Kendrick)—are on the road in the North, heading to… Castle Black? Beyond the Wall? This is what you get for following a psychic tween! Stuck wandering the snowy woods for a season and a half! Bran is warging himself into his direwolf Summer like crazy, enjoying the fresh deer meat he's getting into, which is a lot better than the no meat they have. Jojen and Meera warn him against warging too much, as he'll forget his whole life (Bran is probably like, yes, that's the idea, my life sucks).
Watch Game of Thrones S4E2 Online
After using his warg powers to run around inside the skin of his direwolf, Summer, Bran is warned by Jojen and Meera Reed that he needs to cut down on the length of time he spends in another creature so he doesn't lose his human self, and so, as Meera puts it, they don't "lose everything." Just then, Bran sees a direwolf by a godswood tree and he asks Hodor to bring him to the tree. As he touches the face on the tree Bran sees visions – a three-eyed raven, his father Ned Stark in a cell at King's Landing, snow in the Iron Throne room, a figure beyond the wall, and dragon shadows over King's Landing. A voice tells Bran, "Look for me, beneath the tree." "I know where we have to go," Bran says when he snaps out of it.
Over in Stannis-land, things could be going better. The brooding Baratheon brother still has eyes for the throne (which will grow even wider when he discovers Joffrey's fate, I assume), but he barely has enough food to feed his family. All he can do to pass the time and keep the faith is burn "heretics" at the stake, which one can only imagine is a bitch for morale. Though it does seem a staunch "Lord of Light" devotion is growing out of everyone's fear. One (slightly) redeeming quality that Stannis still possesses is that he doesn't outright loathe his daughter like Selyse does. He does however send Melisandre (who must be having an awkward old time these days) down to Shireen's dank, prison-y quarters to convert her to their new religion. All in all, Stannis is running to a stand still.
Incoming search terms:
watch games of thrones on ipad
Watch Family Guy – The Most Interesting Man In The World Online
  The episode starts out slow, with Peter taking Stewie to the park for some quality father-son bonding time, only to abandon him for the Clam (and a car full of clowns). So far, so boring. But Peter takes the wrong baby back from the park, and Lois throws a completely justifiable fit—Peter may claim repeatedly that he's not an idiot, but yeah, we've been watching the show long enough to know that he is (the other baby, however, does not—Peter tells him he works at NASA). In an effort to make himself more interesting and less of a dolt, Peter goes to Chicago on a business trip and heads out to experience the world.
Peter's visit to the Art Institute in Chicago was, hands-down, the funniest bit the show has done this season. Partly, that's because I live in Chicago and have spent some time there, so I'm inclined to give it additional credit here. Mostly, though, it's because of the welcome vocal presence of the sadly deceased Dennis Farina, who narrates Peter's tour through the museum with aplomb. Farina will be forever linked to Chicago, and he's a perfect choice for this extended sequence, spending most of the tour talking about the food he's eating and wondering how marble statues of women can have carved vaginas. Mostly, Farina is able to sell and elevate the crassness of the normal Family Guy dialogue. If only he were still around, and if only Family Guy got voice actors as gifted as him more frequently.
After his Farina-fueled epiphany, Peter becomes intelligent and cultured, visiting all of the world's major cities and, in a great little cutaway, renting a car with the radio stuck on NPR. ("How was the car?" "Coastal and superior.") Smart Peter is a good variation on the character, one I'm sure has been done before, but that does allow for some actual contrast in a really poorly-drawn character—whatever Peter may be any given week, he's never not an idiot. His newfound intelligence gives the writers the opportunity to make another solid "Brian is a blowhard" gag, in which he can't name a single book he's read (this is one of my favorite recurring jokes, dating back to his novel). It doesn't hurt that Peter's futile attempts at getting his family to not laugh at words like "Balzac" is reminiscent of one of my favorite episodes ofHow I Met Your Mother's "Robots Versus Wrestlers." The tension between smart things and the ways in which they sound dirty is rarely not funny.
Lately, The Big Bang Theory has been pretty good about giving all the main characters their moments in the spotlight and not hinging every single episode on Sheldon. But at the end of the day, Dr. Sheldon Cooper is probably the single biggest reason the show has been as successful as it has, so some weeks he has to take point. That's what he did in "The Relationship Diremption." Sheldon's messy breakup (with String Theory, not Amy) made for some entertaining viewing and served as a reminder of how funny Jim Parsons can be with the right material at hand.
Lorre never actually specifies what "these things" are in the vanity card, and it's interesting to look at the rest of his message with "these things" meaning his sitcoms. He doesn't want to write them, but that doesn't mean he won't. All of his comedies were picked up for next season on CBS, and Big Bang Theory got renewed for three more years. These shows are paying the bills and a whole lot more, and it doesn't look like they'll be going away any time soon. He doesn't want to work on them, but he can resign himself to his contract and turn out work he's not passionate about.
Raj is now only dating Emily, as Lucy was less cool with being one of two date-ees. He and Howard arrange a double-date with Bernadette and Emily. Raj makes Howard promise not to tease him, or reveal anything embarrassing.
At the restaurant, Howard admits that he thinks that Raj will blow the relationship with Emily. Unfortunately for Howard, he recognizes Emily when she walks in – and not in a good way. Emily finds Howard familiar, but can't place him… until she can.
The Big Bang Theory S07E20 HDTV x264-LOL
tvshowz's RSS Feed