Posts tagged
muchshare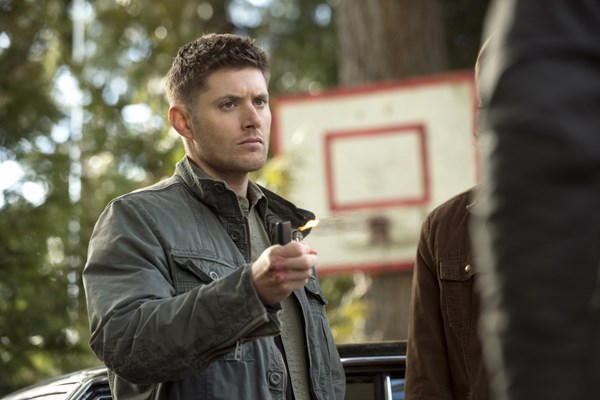 Supernatural continues tonight on the CW with a brand new episode called"Meta Fiction." On it Metatron tries to get Castiel to join forces with him. Meanwhile, Sam and Dean capture Gadreel.
On last episode Dean struggled with the after effects of the Mark of Cain. Meanwhile, Sam heard about a case where straight-laced people were turning into violent murderers. Sam suspected possession and suggested to Dean that they investigate, but Dean told him to go without him. While interviewing the local townsfolk, Sam met an elderly woman named Julia, who told him the Men of Letters came to town in 1958. Josie told Sam the story of a young man named Henry Winchester and his female companion, Josie Sands. While Sam was away, Crowley tested Dean. Did you watch last week's episode? We did and we recapped it right here for you.
Those words from Metatron begin the episode, as does a special title card. Castiel follows the call of a sigil, only to find angels dead and one alive to tell him about an angel offering a deal: join Metatron, fight for him and return to heaven, or slaughter. She's heard of him and is hoping, like other angels, that Castiel will be their leader, but while he wants to make Metatron pay, he refuses to be a leader. He sends a photo of the sigil to the Winchesters, and Sam discovers the same symbol at other crime scenes. Gadreel's in Utah, and there are two possible next stops, so the brothers are taking one while Castiel takes another.
The angels hit the road, with Gabriel giving a rundown of what he's seen and claiming that he doesn't want to run anymore. He wants to lead, and he's going to need soldiers. When they stop at a Gas-n-Sip, they run into trouble: minions of Metatron. Gabriel tries to send Castiel away while he holds them off. Does that all sound just a bit too good to be true? Yes, right? Well, that's because it is. Castiel notices that his coat isn't torn where it was earlier. Continuity errors, they'll get you every time. No, none of this is real. But is Gabriel dead? All we get is a wiggle of his eyebrows.