Posts tagged
Suits stream
All In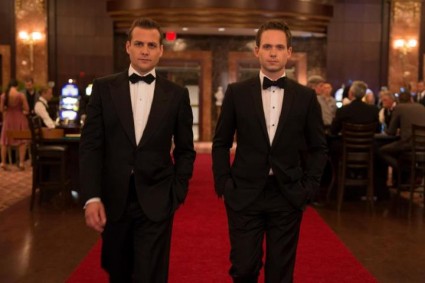 What "Suits" "All In" proves is that the USA Network drama can still have a case a week, but still intertwine it so perfectly with the over-arching story of the season that there's no true end to any episode. Harvey (Gabriel Macht) goes gambling in the July 26th episode in a big way, and the case against the firm is far from his mind.
Would Harvey have gambled to win his client's company back if Donna was still there? Perhaps. Harvey is a win at all costs kinda guy. Donna was his legal muse. Without her support and feedback, Harvey was still able to do his job and successfully, but he wasn't complete.
Harvey tried everything to get the company back from a settlement, to legal manuevers, to threatening to bankrupt the company, so why not just gamble to get it back? Of course, to Harvey it was never a gamble. He would "play the man" and win. And, he did.
The case of the week revolves around a client, Keith Hoyt, who's a recovering alcoholic, compulsive gambler and an owner of a million dollar company – perfect combination for disaster. Before Harvey and Mike, in dapper tuxedoes, gets to AC, Keith uses his $30 million company as collateral for a $3 million loan from a weasel named Tommy. Keith uses the money to play poker and loses not only the $3 million but also his company.
Yes, Harvey offering to win the case via a poker game instead of going to court is a drastic, silly move, but it doesn't feel that different from something Harvey would do even in his best state of mind. Which is why when Jessica confronts him for all his reckless actions, her concerns makes logical sense for a normal person, but not for the Harvey we've gotten to know. Harvey going off the deep end in his despair over what happened to Donna is the inevitable conclusion. The show just needs to show us more, and tell us less.
Incoming search terms:
watch suits on ipad
watch suits on ipad free
suits streaming ipad
stream suits on ipad
watch suits online free ipad
suits stream
suits s02e06 watch online
suits s02e06 stream
stream suits ipad
stream suits season 2 on ipad
watch suits online free on ipad
how to watch suits on ipad
suits stream ipad
watch suits seaon 1 on ipad
She Knows
USA's Suits returned tonight with a game-changing premiere called "She Knows." Whereas season one is a two man show that often feels like a procedural, it's clear immediately that season two is a serial with a much more dynamic plot. More twists are packed into this episode than one would expect, and some really cool new stories are set up.
Suits begins its second season with a dinner date — Jessica Pearson has invited Mike out for an evening at a high-end restaurant. Although Mike initially sees this as a bad sign (thus the "she knows" of the episode title), Harvey assures his protege that this is actually an honor. All of the most successful Pearson Hardman partners got the same treatment as first years.
Remember the anchor/worst-best-friend Trevor? The cliffhanger of Season One: did he reveal Mike's fraud to Jessica? Yeah, that A-hole tattled like a sixth grader. He also told Jenny about Mike's kiss with Rachel – leading Jenny to breakup with Mike.
You didn't think one pleasant dinner would be enough to satisfy the formidable Jessica Pearson, did you? Harvey being Harvey, he knows something is wrong the minute Jessica walks in the office. And he's right — Jessica didn't stop checking out Mike at Harvard (where he has all sorts of fake credentials), she kept going back to college. Mike doesn't have a college degree from anywhere in the known universe, so Jessica knows he is, in her words, "full of shit." The kid has to go.
Incoming search terms:
suits s02e01 stream
suits s02e01 putlocker
suits she knows streaming
stream suits s02e01
suits s02e01 streaming
suits she knows stream
watch suits s02e01
homeland s02e01 stream
watch suits s02e01 online
wilfred s02e01 stream
suits s02e01 watch online vureel
suits s2e1
suits s2e1 plot
suits she knows free